If you have dirty and stained Grout, we have the solution!
Don't spend your weekend on your hands and knees.

Industrial high heat machines melts years of grime away.

We seal the grout so your clean grout STAYS CLEAN!
HERE IS WHAT YOUR NEIGHBORS ARE SAYING
"I had my bathroom floor and wall tile cleaned by yourguys. The work is excellent! The place is 30 years old and I am pretty sure it looks better now than when I bought it!"
~ Tom P., Darien, IL

"Two workers arrived as scheduled and were very courteous. They worked hard and did a great job of cleaning and restoring our ceramic tile. Most areas look like new!"
~ D. Jones, West Chicago, IL

"You did an amazingjob! The bath tile looks terrific! We appreciate your guys taking their time to do it right. Thank you for your hard work!"
~ Susan E., Orland Park, IL
Tile and Grout Cleaning in Oak Brook and Metro-Chicagoland Areas
Phase 2 Services is proudly servicing residential and commercial properties in Oak Brook and Chicago Metro Areas for tile and grout cleaning. Our team knows the importance of tile and grout cleaning because it keeps your house well maintained. Regular tile and grout cleaning should be done if you want to keep tile floors lasting longer.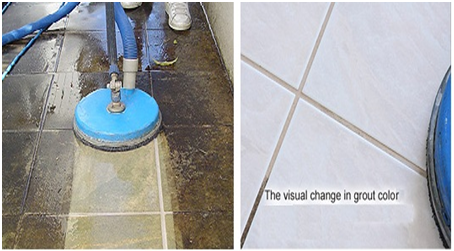 Why Do You Need Professional Tile and Grout Cleaning
While you can easily maintain your tile and grout with regular cleaning using household supplies, you still need a professional tile and grout cleaner to get to those hard to reach places. Keeping the grout clean is the key to keeping the entire flooring well maintained. If the grout is not kept clean, things will pile up in it, ruining the whole flooring. Thus, if this happens, then you need to replace the entire floor. Avoid spending a lot of money on the new flooring by calling the best and most affordable tile and grout cleaners in Oak Brook and Chicagoland!
Our Tile and Grout Cleaning Process
We have the perfect answer to your tile and grout problem! With our Turbo Tile Cleaning System, we can deliver quality cleaning for your tile floor. This system uses high pressure, ultra-high temperature water to remove soil and dirt. To avoid splashing or puddling, the water is simultaneously collected by our powerful vacuum system. What is the end result? A deep down clean, way down into the pores of the dirtiest grout.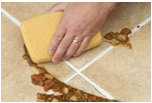 With our cleaning system, you will be amazed at the big difference between the state of the tile and grout before and after we made the cleaning! The process does not end in cleaning your tile and grout. We can do professional grade sealing to keep the tile and grout look clean for many years to come.
Application of a sealer has been an important part of the process over the last years and it is a necessary step in tile and stone maintenances. Aside from keeping the tile and stone look like new for a long period of time, sealing also minimizes the deterioration that happens to any surface over time.
Our team at Phase 2 Services can even clean those nasty garage floors too!