We are there when you need us the most!
24-hour service

State-of-the-art equipment and techniques
Certified trained technicians

Mold remediation

Home reconstruction and remodeling

Fair pricing
HERE IS WHAT YOUR NEIGHBORS ARE SAYING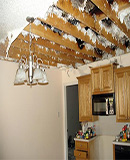 "Having your house catch on fire is one of the worst things that can happen. Your team helped make it tolerable. Service was prompt and your workers were careful and thorough. No odor remains and reporting information to the insurance company was submitted quickly, so my reimbursement check soon arrived." ~Bill and Susan, Bloomingdale, IL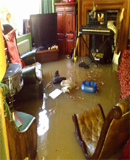 "Your company helped us out back in December 2013. If you have a water damage issue, stop looking and just call them. Their crew was incredibly professional, punctual, and effective. I called them early in the morning and they came over first thing and gave us a very fair and honest evaluation of the situation and started working that morning. They made a terrible situation bearable. Thanks!" Ronald H., Schiller Park, IL

"I just want to say thank you for taking care of my house because of the flooding from my refrigerator leaking. We came back from Florida after the winter to find this mess. After your mold removal team finished their job you had you man come with his trailer laboratory to confirm the basement was safe. It really put my mind at ease." ~Ester P., Skokie, IL
Water Damage Restoration Services in Oak Brook and Metro Chicagoland Areas
A water damage problem is a difficult and unpleasant one to handle. This problem can result in health concerns because of excess moisture buildup that facilitates the growth of mold and mildew. In addition, water damage leads to rot, rust, and other issues.
24-Hour Service
Water damage is a serious problem. The first 24 hours is important because the longer your home or business is exposed to excessive moisture, the more damage they suffer. As time is critical in this kind of situation, our water damage restoration team is on full alert for any water damage problem in Oak Brook and Chicago metropolitan areas.
Cutting-Edge Technology and Techniques
Our Oak Brook water damage team can handle catastrophes of any size. Our specialists can solve small problems like a simple sink overflow affecting only a few rooms, using a Low Grain Dehumidifier and air movers, to bigger ones like multi-unit and multi-level bursting pipes and water supply lines.
Our team uses the latest equipment and techniques (shown above), using a trailer Desiccant Dehumidifier Unit to quickly get you back to business. We make sure we minimize business interruption while we do the mitigation job. Phase 2 Services utilizes infra-red cameras to detect where the eyes can't see.  We use industrial-grade drying equipment that ensures quick drying and gets you back in business fast!
Our restoration process includes drying wood floors effectively that can really save you thousands of dollars in replacement.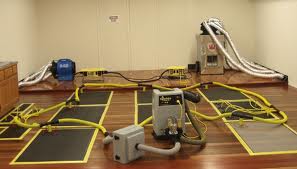 We also handle other damage restoration jobs like sewage, fire and smoke damage.
Our team, even on short notice, can assemble large crews to handle any damage restoration project.
Mold Remediation Services
A water damage that has been left for several days or even months may result in the growth and spread of toxic mold. Mold can start to grow and spread within 24 to 48 hours in the affected structures, like sheetrock when exposed to the right temperature, moisture level, and food sources. If mold results from an insurance-covered water-damage loss, this must be included when preparing the scope of the damages and costs of repair, as this is most likely to be covered as well.
What is recommended is that when you see mold, you must remove it. If you suspect there is mold yet it is not visible, we can perform a test to determine its existence. After we remove all mold-contaminated items in your home or business, our trained technicians will then remediate and decontaminate the structure and the affected items.
Home Reconstruction and Modeling
Phase 2 Services offers full service restoration and maintenance services for all types of construction and structural repair including the following: drywall, plaster, painting, roofing, cabinetry, plumbing, carpet, vinyl flooring, wood floors, framing, trim, and mold work.
Our Oak Brook water damage restoration firm serves all types of property management companies, insurance adjusters, home and business owners. If you are facing a water damage problem, big or small, Phase 2 Services is the team to call! if you have any questions or concerns, please feel free to call us.